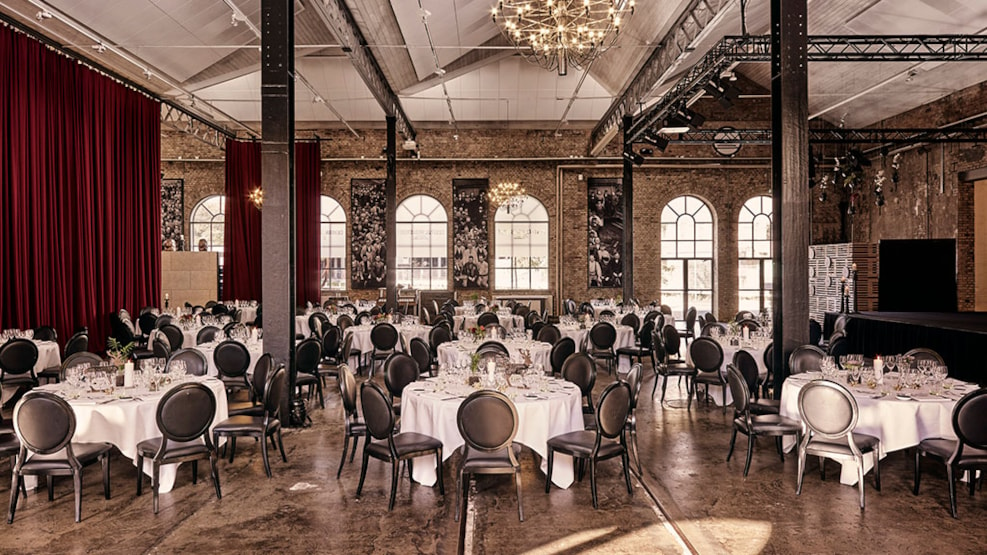 Green Experience
Centralværkstedet and Smedien venues
Let Centralværkstedet host your next meeting, event or conference. Centralværkstedet has the size and flexibility for every event. 
From Hard Work to Hosting
If only the walls of these beautiful and historical surroundings could talk, great stories would be told – elegantly constructed buildings made of rustic materials telling the tale of the time when this was a factory filled with hard working men. A professional staff, an ambitious kitchen and various layout possibilities in the room.
Centralværkstedet – The Perfect Venue For Your Larger Events
If you are hosting a large event or a conference, Centralværkstedet offers the space and flexibility you are looking for. Furniture and décor can move around to create lots of floor space and you can section the room with large, red curtains, however you want it done – and with room for 900 people, virtually anything is possible! 
The wide iron columns, the raw brick walls and beautiful chandeliers form a unique and urban contrast to the large, lighted stage. Are you having a conference, various kinds of av-equipment can be rented for professional presentations. By the 1st floor balcony you will find a conference room and a large lounge area, and when it is time for a breath of fresh air you have the comfort of a nearby cobbled courtyard with garden and lounge furniture.
Conference Facilities With Various Possibilities
Whether you are hosting the annual company KICK OFF or a large congress, you have ample possibilities for laying out the room exactly as you want them. You can rent the facilities for just a day or for an entire weekend with great accommodation available at Comwell Aarhus.
The talented chefs are ready to prepare the menu you wish for – see the conference catering suggestions for details. The venue has been soundproofed and rental of state-of-the-art av-equipment with screen, projector and sound system can be arranged.
The Kitchen at Centralværkstedet – A Cornerstone of Your Event
The modern and innovative kitchen at Centralværkstedet is dedicated to sensuous gastronomy. It is obvious that the staff are highly detail-oriented and love to experiment with new as well as classic dishes. Whether you want to have a buffet or individually served dishes it can all be arranged. For a buffet, each portion usually comes in little individual bowls. The goal is to serve a wide variety of delicatessen and dishes that cater to the palate of every guest. The food and how it is served is specially planned for each event, but most often it will be individually served plates.
Smedien – Perfect Spot for the Company of Close Friends Or For a Meeting
When entertaining a smaller number of guests, Smedien is the way to downsize – however, this only goes for the size of the venue, everything else is as big as it gets. With its authentic wrought iron window frames, dark wood and visible rafters, Smedien is a unique setting for any business meeting.
The natural lighting provides great energy when you have to stay focused for a longer period of time. You can also change the layout of the room, arrange it in different sections for a workshop, a seminar etc.
Open Kitchen and Atrium
Smedien is one of the city's smaller venues and still it seats as many as 200 guests. If you are planning on rounding your meeting off with a dinner the beautiful wooden floors and the open fire place will create a cosy setting for any dinner party. Part of the venue is a cosy, cobbled courtyard with garden and lounge furniture.
See what others are sharing on Instagram
VisitAarhusconvention © 2023