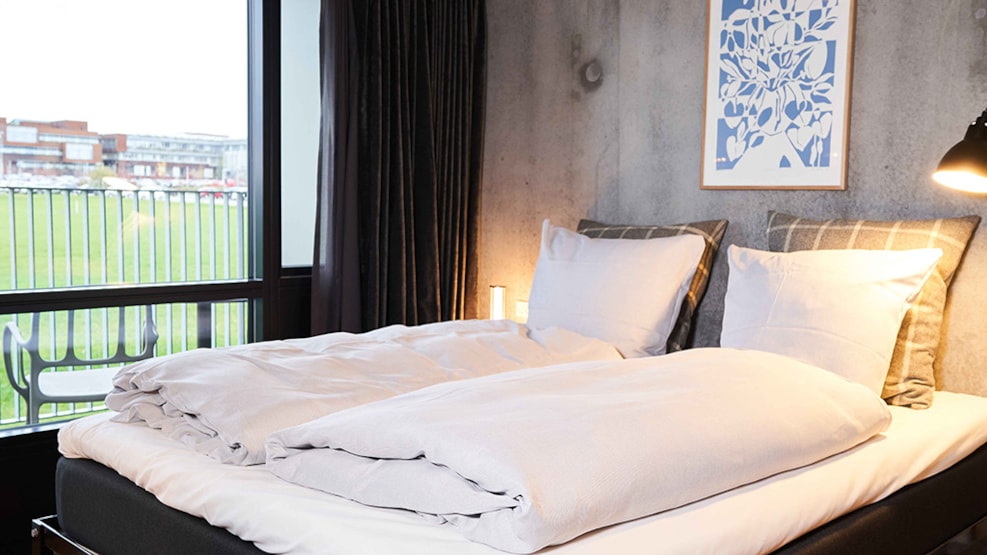 Green Experience
Hotel GUESTapart
When you visit Hotel GUESTapart in Aarhus you will not just get a hotel room, but a functional and fully equipped design-apartment, where you can stay from today till tomorrow, or the next 25 years – it's up to you!
At Hotel GUESTapart you will meet the perfect combination of exclusivity, "hygge" and homeliness. The relaxing atmosphere and the present, personal service create the ideal settings for a unique stay.
It's a piece of cake!
When you book a stay at Hotel GUESTapart, you will go through a digital check in and out process. You will receive important information and a personal key code for your apartment on SMS. The hotel is located only 5 km. from the city center, and there is a tram just outside of the building, that takes you there in just 10 minutes. You can leave your car at the hotel, it has more than 90 free parking spots.
Your home away from home
The apartments are between 30-46 sqm. Each apartment has its own kitchen with all you need for cooking, a dining area, a large bathroom, a bedroom with a double bed and B&O TV with Chromecast.
This leaves you with the choice of cooking in your own kitchen or spoil yourself with a delicious meal from the a la carte restaurant of the house, Restaurant APART.
Delicious Breakfast
It is also in the restaurant the breakfast is served, where you can be sure that everything is made from scratch. Breakfast is included in every stay!
Fitness
If you need to blow out some steam, you can take a sweaty work out in the gym. It is over 600 sqm, with multiple types of training equipment and is open 24 hours a day.
See what others are sharing on Instagram
VisitAarhusconvention © 2023