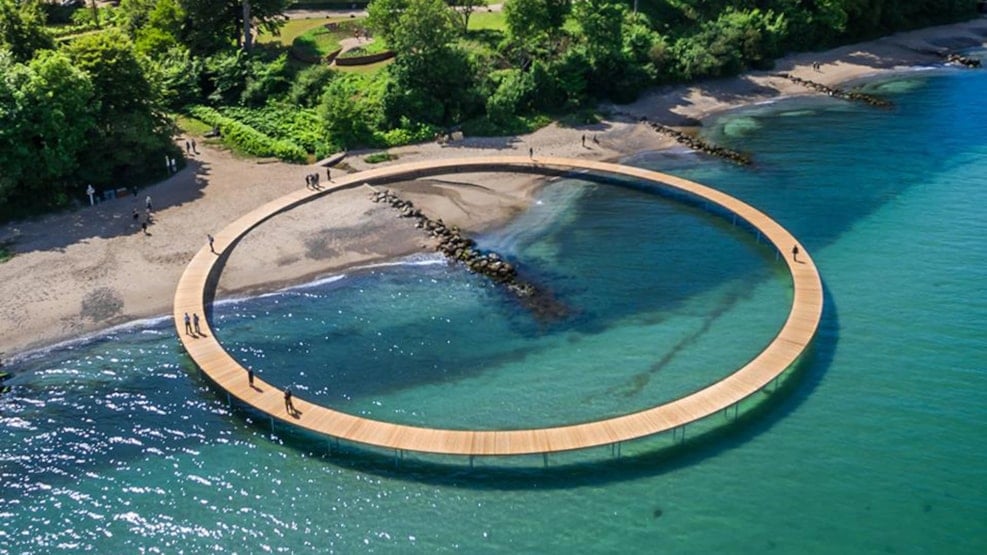 The Infinite Bridge
Imagine a bridge on which you can walk and walk and walk. Without ever reaching the end. And in the most breathtaking scenery. This is exactly what you get, when you visit the wooden pier and work of art, The Infinite Bridge by Varna and Ballehage Beach in Aarhus.
The Infinite Bridge has been taken down for the winter, but in April 2024 you can visit it again.
Circle shaped bridge
Originally, The Infinite Bridge (Den Uendelige Bro) was displayed in relation with the Sculpture By The Sea event in 2015. The people of Aarhus took to the work of art to such an extent that the Municipality of Aarhus contributed to reconstructing the bridge as a permanent piece of art – and an infinitely beautiful pier.
The Infinite Bridge has been created by architect Niels Povlsgaard and Johan Gjødes.
The circle shaped, wooden construction spans from the surf and out into Aarhus Bay, and it is a popular excursion spot for locals as well as tourists.
360 degree panoramic view
Whether you feel like putting on your bathing suit and jump in the water or simply walk around and around enjoying the view of the sea, the beach and the forest, The Infinite Bridge is an amazing place to spend the day with family and friends.
The Infinite Bridge is set up from April until October. If you have questions regarding The Infinite Bridge please contact the Municipality of Aarhus at info@vigirbyenpuls.dk.
See what others are sharing on Instagram
VisitAarhusconvention © 2023