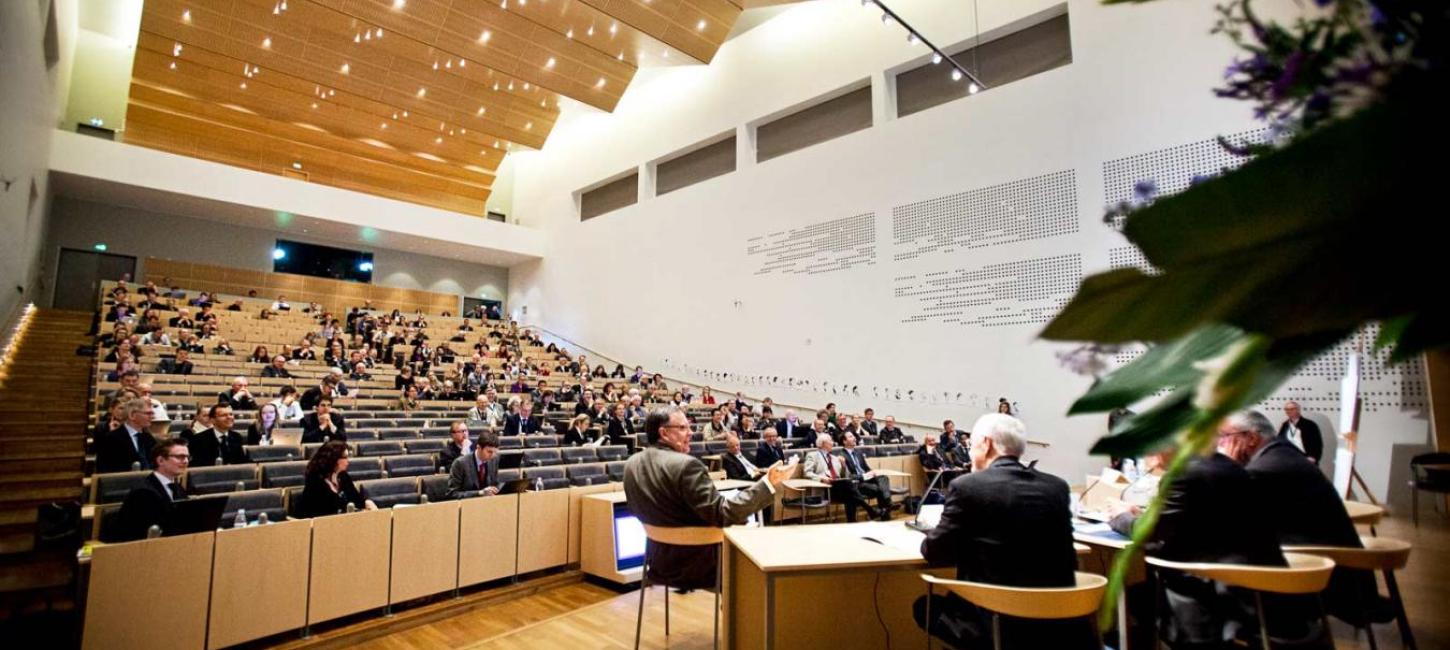 Free Conference and Congress Support
Photo:
Jesper Rais, Aarhus Universitet
Take advantage of our knowledge and experience, save time and ensure a successful conference  
For more than 15 years VisitAarhus Convention Bureau has been a valued partner with conference organisers and local stakeholders for the purpose of attracting national and international meetings and conferences to Aarhus, Denmark.
With an in-depth knowledge about the city's facilities and possibilities – not to mention extensive experience in submitting bids on future conferences – VisitAarhus Convention Bureau offers you the knowledge and experience that you need to create value for next event, free of charge.
Below you will find a more detailed description of the free assistance and support offered by the VisitAarhus Convention Bureau.
The First Steps
Hosting a conference?
Let us help you from your very first reflections on your future event.
We have many years of experience in attracting conferences to Aarhus and are at your disposal for help and consultancy with the aim of winning the conference to Aarhus.


 

We help identify various possibilities in the city for your particular event (consultancy on meeting facilities, hotels, social events, possible partnerships in relation to transport, av-equipment, catering etc.)


 

We are committed to your event and will identify ways to get local businesses and the city involved in the conference – rooted in the local community.


 

We are available for project management and overall coordination in the bidding process.
The Bidding Phase
Are you planning on submitting a bid for a conference?
We are committed to your event and will guide you safely through the bidding process. This is what we offer:
Many years of experience with attracting conferences to Aarhus and are at your disposal for help and consultancy. We tailor the bidding material in close cooperation with our partners and the local host. In the bidding material, the candidacy for the hosting of the conference is declared and it is described why Aarhus in particular will be the ideal venue for the conference.


 

Available project management and overall coordination in the bidding process, makeing sure that all deadlines and bid requirements are met.


 

Tailor the bid to match the conference and assess from bid to bid which information should be included, and what carries particular weight in order to win the conference.


(Bidding material usually includes: Motivation from the local host, information on the organisation having the conference, welcoming letter presenting the city, letter of support from the city, letter of support from select scientific communities, from the region etc., information on Aarhus' strengths and positive qualities as a conference venue, proposal for conference facilities, hotel rooms, social events etc., accessibility, budget proposal and other kinds of relevant information concerning the conference in question.)
 

Help provide information on endorsement from relevant parties and the gathering of endorsement letters.


 

Get local partners involved (municipality, regional authorities, businesses and knowledge institutions).


 

Obtain offers from venues, hotels and social event partners and pre-book rooms in order for it to be easy to confirm the deals, when the bid is won.


 

Map out and illustrate accessibility in and around Aarhus.


 

Provide a budget draft.


 

Take care of graphic production


 

Offer to plan, coordinate and fund a site-visit for relevant decision makers.

 
Submitting the Bid
Printing, digital production set-up, marketing of the bid?
We help make sure that your bid looks just right.
Hand in your bid digitally or printed if so required.


 

Produce promotion material such as a video, PowerPoints, brochures etc.


 

Offer to be a part of the pitch before a national or international board.


 

Happily plan, coordinate, host and fund visits by international decision makers/event planners.


 

Produce material for the presentation of the bid.
Once You Have Won
You have won the conference, now what? We are there to guide you through every step.
Work with and for you from start to finish.


 

Ensure safe handover of all advance bookings etc.


 

Can partner you up with professional congress organisers – known as a PCO – as well as public authorities and organisations where it might be relevant.


 

Make arrangements with VisitAarhus Guest Services/volunteers when necessary.


 

Provide free access to VisitAarhus' media data bank with pictures of Aarhus, films, press coverage etc.


 

Provide tourist information to include in your conference welcoming material.
Didn't you find the information you were looking for? Do you want to know more? Or something completely different? Contact us, and we will find out how to assist you the best and tailor a solution to your meeting or conference.
Any questions?
The team of VisitAarhus Convention Bureau.
Feel free to reach out - we are happy to help!
 
VisitAarhusconvention © 2023